Onofiok Luke, immediate past House of Representatives member for Etinan/Nsit Ibom/Nsit Ubium Federal Constituency has handed over his constituency office to his successor, Obong Paul Ekpo.
Onofiok Luke who constructed the constituency office in Etinan during his tenure as a fulfillment of his campaign promise, handed over the new building on Friday 22nd September, 2023.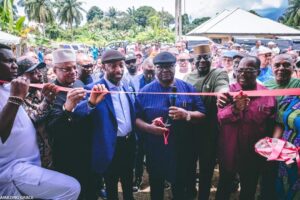 Speaking after the commissioning, Paul Ekpo, a former PDP state chairman, appreciated Onofiok Luke, the immediate past House of Representatives member for building the constituency office and his effective representation during his four years tenure.
Paul Ekpo promised to leverage on the experience garnered from Barr. Luke and tagged the structure, "Onofiok Luke Constituency Office."
Luke, in his speech, appreciated God for the grace and the constituents for the support and used the event to unveil his 4 year report in the National Assembly.
He appealed to constituents to lower their expectations on what they should get into their pockets from elected public officers, but expect more from them in terms of representation.
The former lawmaker recounted many projects he attracted to the federal constituency, explaining that computer meant for computer centre at Nsit People's Grammar School and another school in Nsit Ubium are domiciled in Paramount Rulers palaces for security reasons pending when the school can provide adequate security.
"The advice you all gave me made me to be successful. I appeal that we have patience with elected officers because when you are inside the challenges are great. Let's manage the expectations we have on Obong Paul Ekpo. Let's have low expectation on how much he can give people to put inside pocket but high expectations on representation. Paul Ekpo is not a back bencher."
Onofiok Luke appreciated the Peoples Democratic Party, PDP, and the immediate past Governor, Mr. Udom Emmanuel. He implored the masses support the Governor, Pastor Umo Eno.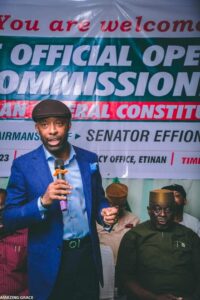 Let's support pastor Umo Eno and be pato sit on the drawing board.
Earlier in his remark, the chairman of the occasion, Senator Effiong Bob, commends Barr. Luke for being the first to build and handover a constituency office in the state and appreciated his legislative style in the National Assembly which he urged others to emulate.