…SEEPCO begins activities despite inconclusive EIA, MoU
Part 2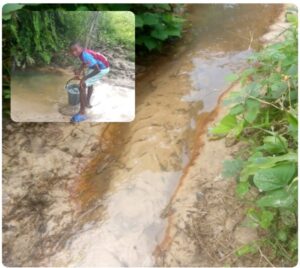 By ENWONO-ABASI ELISHA
"Their occupation was greatly affected. So, we gave them each ₦100,000 each to buy fish, crayfish and start selling," – Community stakeholder.
INCONCLUSIVE is the Memorandum of Understanding, MoU, as at the time of this report which should guide the activities of Sterling Oil Exploration and Energy Production Company Limited, SEEPCO, in host communities in Eastern Obolo LGA, Akwa Ibom State.
Several assertions by stakeholders of Iko community, Atabrikang I, Obianga, Ikonta, Okoroinyong, Iwofe, Egwenwe, Amazaaba, Emero-oke, all in Eastern Obolo LGA, point to this fact.
Environmental experts view this as abuse of contract process which a duly signed MoU should have followed an Environmental Impact Assessment (EIA) report before commencement of any kind of work by the Company in the area.
"It is wrong for any Oil Company to begin any activity without EIA report and MoU duly signed. EIA is one of the tools required before commencement of any site project. Existing ones requires periodic review to meet with the reality of a particular place as it concerns its environment." Mr. Macaulay Nyoho, Environmental expert said.
The discrepancies surrounding the  Status Of EIA, MoU of Sterling Oil with Eastern Obolo LGA, the host community reveals the environmental flaws committed by the Company.
According to a crown Chief of the area who wants his name not mentioned said the stakeholders condemned a previous EIA report by SEEPCO, alleging it was an obsolete one used by Shell Petroleum Development Company of Nigeria (SPDC) before they bought over that old asset.
"There was a previous EIA conducted by the Company. We had to condemn that one because it used an old one by Shell company. After the visit of Senate Committee on Petroleum Resources (Upstream), the EIA contract was later given to Senate Committee on Petroleum Resources (Upstream) headed by Sen. Bassey Albert, representing Akwa Ibom North-East District.
"As at now, the only MoU we have is for Civil works and Rig works. We were expecting another MoU on drilling which will be the Cluster MoU for actual production work and will be the last MoU," the crown Chief said.
The inconsistency testimonials about the state of MoU and EIA conduct by Sterling Oil which is already operating in the communities make the substandard environmental practices of the Company clearer despite established environmental laws to guide operations of Oil Companies.
Environmental Impact Assessment (EIA) Act, Cap E12, Lfn 2004, Section 2 (1): requires an assessment of public or private projects likely to have a significant (negative) impact on the environment. Section 60 creates a legal liability for contravention of any provision.
An Environmental Impact Assessment (EIA) is an assessment of the potential impacts whether positive or negative, of a proposed project on the natural environment. The E.I.A Act, as it is informally called, deals with the considerations of environmental impact in respect of public and private projects.
Also, the National Environmental Standards And Regulation Enforcement Agency (NESREA) Act 2007, Section 7 provides authority to ensure compliance with environmental laws, local and international, on environmental sanitation and pollution prevention and control through monitory and regulatory measures.
The Village Head/Clan Head of Iko Town in Eastern Obolo LGA, HH CH (Capt) Eteidung Isaiah Thomas Okonko spoke on the EIA and MoU status of the Company.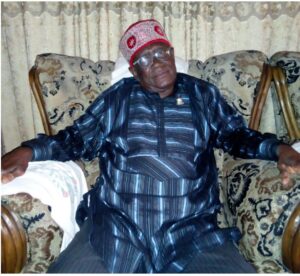 "Initially, when the Company came in 2017, they agreed on Cluster MoU which is an agreement with respective Communities in Eastern Obolo LGA which Iko Town is one of the Communities but external influences wanted to take their minds away from it.
"We observed that since the Company (SEEPCO) came into the community in 2017, they have not been doing anything. But in 2020 we observed that they started operation and we said no, you can not come into our community and not talk or negotiate with the community people. We started protest. You may have heard of a demonstration we carried out in 2020 which lasted for months and almost created crisis. It was a protest by the community against the company.
"After the demonstration, the Company agreed to enter into an MoU with us."
A Community source who pleaded anonymity said, "going by what is happening today, I will say that Iko community had issues initially when it was as if Sterling Global (SEEPCO) was not going to enter into an agreement with us by Cluster arrangement but to have a Central MoU which we did not agree. But there is an agreement now by the Company for an MoU with the community. That is by Cluster arrangement."
The Youth Leader of Eastern Obolo LGA, Samuel Gogo Adasi have this to say about the MoU:
"Even the MoU, EIA is still in progress since they have not  started production aside minor intervention and ongoing structural construction at site."
Effort to speak with the Company's source proved abortive as FOIA Request to both email and hardcopy letter to the Corporate Office were not given replies. Calls and text messages to the Base Manager of SEEPCO in Iko Town, Eastern Obolo LGA to further seek Company's side of the story was rebuffed with no replies.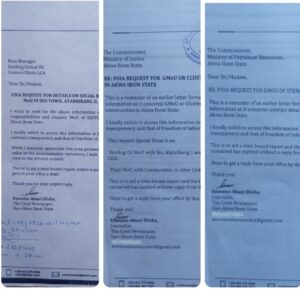 Meanwhile, the Ministry of Justice, Akwa Ibom State in its response letter dated 9th February, 2022 and signed by Bar. (Mrs) Mfonobong Udo-Inyang for the Attorney-General and Commissioner for Justice, said that the information solicited for can not be disclosed as FOIA is inapplicable in the State as of date. And account of monies paid by oil companies as revenue to State, at any period, can only be released to NEITI.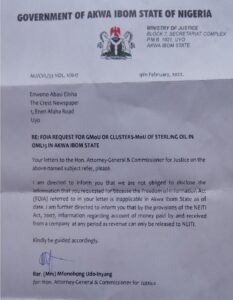 A member of the General MoU Committee who pleads anonymity said EIA was conducted last year, 2021. A year after SEEPCO commenced operation in the area. On the status of MoU, the source said the Committee in still on it.
"Yes! EIA was conducted and I was part of it last year. The areas there were concerns were corrected. For the MoU, the drafting Committee is on it."
Some community members further  revealed the inconclusive status of the EIA and the GMoU which SEEPCO has ignored, placing the cart before the horse and proceeded with activities.
"We have not signed any GMoU. We are waiting for the implementation of the Petroleum Industry Act (PIA) 2021. What we did was the EIA and the drilling MoU until their first oil. This is when we will now sit and sign a GMoU with them.
"EIA was concluded and public hearing was done in Uyo, the State capital, but there were issues we raised concerning the EIA. There were issues of environmental degradation and pollution. The Ministry of Environment saw with us and they asked them to address those issues with us.
"Up till now, the EIA statement has not been released. Most of the things they were told to do, they did not do them. That is why, recently when they came out with another workshop for seismic data gathering for another oil exploration. We told them, you are not done with the other one by bringing up a EIA statement, now you want to commence another EIA," Chairman of the Central Local Committee, Dr. Charles Mbong further revealed.
Iko Rich Wells with Poor people
"According to the forecast of SEEPCO, an oil well has the potential of producing 1000 barrels a day," Clan Head of Iko, HH CH (Capt) Eteidung Isaiah Thomas Okonko revealed.
Going by this claim, it therefore means for over 70 Oil wells and more discovered in Iko Community alone in Eastern Obolo LGA, worth billions of Naira from crude resource that will be taken out from Iko community in a day.
By current exchange rate as at the moment of this report, live interactive chart of West Texas Intermediate (WTI or NYMEX) crude oil prices per barrel as of January 31, 2022 was $88.15 per barrel.
If 1 barrel = 88.15 USD, then 1 Dollar = ₦415.26 (CBN exchange rate price as at January 31 2022).
Naira worth of 1 barrel will be $88.15 × ₦415.26 = ₦36,605.17.
And for one Oil Well, ₦36,605.17 × 1000 barrels = ₦36,605,169m/day.
This therefore means for over 70 Oil wells discovered in Iko Community alone in Eastern Obolo LGA and more are still being discovered, Billions of Naira worth of Crude will be taken out from Iko community in a day.
Going by the 70 Oil Wells already discovered, the worth of value of Crude in Naira will be at ₦2,562,361,830B/d of drilling activities of SEEPCO in Iko Community of Eastern Obolo LGA in Akwa Ibom State. By simple arithmetic, a dollar value at current CBN exchange rate and the value of 1barrel of Crude in USD calculated as at press time above sums up Iko wealth per day to approximately, One Oil well = ₦36,605,169m/day × 70 (Oil Wells) = ₦2,562,361,830B/d.
Few Foot Prints of SPDC, SEEPCO in Eastern Obolo
Current condition of communities in Eastern Obolo LGA is that of rape and devastated environment from rash operation of Oil giants over the years.
Shell Petroleum Development Company of Nigeria (SPDC) Operated in the area between the 80s/90s and left a spill incurred by SEEPCO.
"Shell drilled Oil for so many years in our Communities far back in the 80s. Later we were annoyed that we only see them drilling Oil without positive impacts in the community.
"When our roofs, farms, water bodies and environment were destroyed, we stood up to ask shell why?
"They brought security men, Nigerian Police and shot our sons, burn down houses with corpses of our people who died out of environmental hazards and were embalmed locally at home," Clan Head of Iko Community, HH CH (Capt) Eteidung Isaiah Thomas Okonko further explained.
He said the carnage took place between 1983/84, 39 years now, as there were no hospitals within the Community or good roads to take the sick out for treatment and to embalm the dead.
Today, not much has been achieved in the aspect of development and environmental protection.
According to Iko Clan Head, part of what Iko Community term 'Legacy Projects' in their Cluster MoU, is to clear the environmental mess by SEEPCO which is a liability left by Shell Company which they inherited.
"We made 'Legacy Projects' part of re-entering projects. These include; installation of transformers, provision of school desks, maintenance of Primary Healthcare Centre, renovation of royal palace. They have not completed these reentering projects but still on it.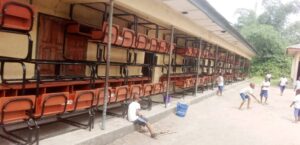 "SEEPCO has started minor interventions in Health Centre at Iko Town. They promised to construct 2000 desks for our schools in OML 13 communities. Some have started arriving with inscriptions 'sponsored by Sterling Global/NPDC. There are seven transformers on ground but not installed. Also, they are parching the road we asked them not to ply again."
The Youth of Eastern Obolo recently  protested over the dilapidated 'Iko- Okorombogho-Okoroette-Okoroinyong-Akpaden' road, the only access road to the LGA which was worsened by the plying of heavy vehicles of SEEPCO since commencement of their operations in 2020.
"The facelift to the Primary Healthcare Centre should not only be the structure but also the equipment and facilities as it was completely dilapidated. The nets were outdated and mattresses were eaten up by rats. There are no drugs, everything is just bad. So, the company only handled the physical structure of the health facility," Dr. Charles Mbong said.
During the intense Covid-19 period, the Community stakeholders said they were able to secure Covid-19 palliatives, grants worth ₦100,000 each for women across the Local Government to advance their trades.
According to them, the grant was to cushion the effect of ground clearing work of the Company which destroyed a lot of natural habitats like the mangroves where the women hunted crabs, periwinkles and other seafoods for their livelihood.
"Their occupation was greatly affected. So, we gave them each ₦100,000 to buy fish, crayfish hand start selling," Dr. Charles Mbong submitted.
To be continued.
This investigation is supported by Policy Alert with funding from Open Society Initiative for West Africa (OSIWA).