Following the submission of commissioners' list to the Akwa Ibom State House of Assembly, Akwa Ibom State chapter of the Nigeria Union of Teachers (NUT) has rejected possible reappointment of Mrs. Idongesit Etiebet as Commissioner for Education.
In a letter addressed to the State Governor, Pastor Umo Eno and submitted to him on Friday July 20th, the NUT also gave criteria on who should be appointed commissioner for Education in the state.
Confirming the letter, the state chairman of NUT Edet Emenyi, in an exclusive interview with The Crest, decried the overbearing attitude of Etiebet, and warned against her reappointment as commissioner in the Ministry.
Although the chairman admitted that NUT only gave criteria on what should be the make up of the next Commissioner for Education, he noted that since Etiebet's qualification falls below the criteria, she is not qualified to mount the saddle again as Commissioner for Education.
"We don't want her because of her past antecedent in the ministry and her past encounters with the teachers too. In some occasions she was embarrassing teachers. So with this, I would not want her to be rejected by teachers if reappointed because teachers have already sent messages to me, even staff of the ministry she worked with don't also want her back.
World Youth Skills Day: Governor's Wife tasks youths on entrepreneurship
"Mine is to represent the voices of the teachers and that is what I have just done.
"Eventhough in our letter we did not specifically or directly say she should not be sent to the ministry, but wrote are saying she should not be sent to the ministry.
"In our letter we said nobody who has not possessed the educational requirements or qualifications should be sent to the ministry.  We had stated the person must be a PhD holder in education or Professor of Education so that he or she will understand the problems, nitty-gritty of education and be able to face it from the root." The chairman said.
In a similar development, civil servants working with the state Ministry of Culture and Tourism have pleaded with Governor Umo Eno not to send back Mr. Orman Esin as Commissioner for Culture and Tourism.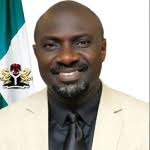 Some staff of the Ministry who interacted  with our correspondent on condition of anonymity, described Orman Esin's first tenure in the ministry as horrible.
Staff of the Ministry said they could count the number of times Orman Esin showed up in the ministry or entered his office to attend to visitors or address staff.
They alleged Orman Esin spent greater part of his life at Ibom Icon Hotel and Golf Resort where they said he has an apart and resided there constantly.
"God forbid that Orman Esin is sent back to Ministry of Culture and Tourism as Commissioner. He did not even treat us we'll.
"We could say that throughout Orman Esin's tenure as commissioner he only entered office three times, while he spent the rest of his time at Ibom Hotel and Golf Resort.
"We can tell you that we were in darkness throughout Esin's time because since he was not in the ministry nobody could put on the generator.
"Orman Esin never addressed staff of the ministry or gave out Christmas packages to anybody while as commissioner. So we do not want to experience the same thing again ". Civil servants said.
Findings indicated that Ibom Icon Hotel and Golf Resort is under the supervision of Ministry of Culture and Tourism.
Attempt to speak with Orman Esin on the issue yesterday was impossible as his MTN line was switched off till the time of press.