By Victor Essang
A Non-governmental Organization (NGO), Connected Development (CODE), has trained journalists and Community Based Organisations (CBOs) on climate change with a charge on them to create awareness and advocate for policies to mitigate its negative effect on the society.
The one-day training workshop on Community Media Collaboration for Climate Justice (CMCCJ) being a project implemented by CODE with support from OXFAM took place in Uyo with select journalists in attendance.
The Programme Officer of CODE, Nkem Ibeh, said "the project seeks to create awareness on climate change and the impact on our communities and build the capacity of CBOs and the media to raise awareness and advocate for policies that seeks to mitigate impact of climate change."
Also read:
University management, Secretary NEEDS commend Fens Properties on project delivery
Ibeh also opined that the outcome of the workshop will "increase citizen involvement in public discourse while holding the government accountable for public funds and environmental justice"
While observing, "we can't solve climate change issues overnight", Ibeh posited, "we need people to be aware because some of the effects of this climate change is beginning to dawn on us"
"We need community members to be aware that they contribute in some ways to these effects through their activities. Therefore, communities should find a way to keep their environment clean by disposing their waste properly to avoid flooding due to blocked water ways", she said.
Ibeh, who disclosed that most community members were not aware that funds were being allocated and released for the curbing of the negative impact of climate issues, urged the participants of the workshop to track these climate resilience funds which are meant to help communities cope with these negative impacts.
She explained that many residents of oil bearing communities were victims of the effects of climate change caused by oil exploration and other human activities and stressed the need to refrain from such activities.
The participants were also drilled on climate justice, communication strategy and Follow-The -Money (FTM) module.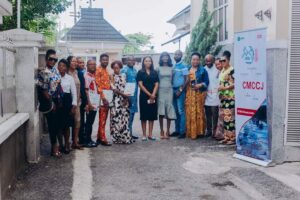 Speaking on Follow-The-Money, the CODE state representative, Mr Ubong Ekpe said FTM is campaign strategy of the NGO to track the funds meant for development.
Ubong outlined the steps to FTM to include data mining, community outreach, town hall meeting, advocacy visit and media engagement.
High point of the training was the drafting of work plan document, for the next point of action.