The Senior Special Assistant (SSA) on Brand Management and Marketing to the Governor of Akwa Ibom State, Sir Raphael Edem has reiterated the need for all Akwa Ibom persons to join in the task of marketing the unique potentials and qualities of the State in positive ways.
He made the note, Wednesday, during the ongoing Chats of the Conference of Online Publishers, Akwa Ibom State (COOPA) on the theme, 'Nigeria in Post Subsidy Removal Era: Governance and Citizens Engagement.'
According to him, "The task for building Akwa Ibom brand is not just the State Government's responsibility. Every positive thing that comes from the State tells a story. Likewise the negative story which can tarnish the image of the State. It is our collective duty to shape the narrative about our State. That it is a place to invest and work."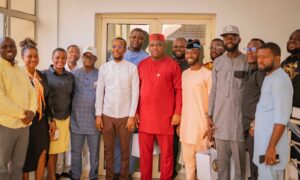 The Senior Special Assistant, Sir Edem seized the opportunity to invite COOPA on partnership to market the State in most positive ways by handling the bulk of the positive messages emanating from the State.
On the issue of leveraging on the existence of private organisations and local entrepreneurs to boost the Akwa Ibom Brand, the SSA said that the recent step of the State Government to reenergize Akwa Ibom Investment Corporation, AKICORP, by opening vacancies, is a strong signal towards this direction. 
Furthermore, on the aspect of tourism, he asserted of a good working relationship with the State's Ministry of Culture and Tourism, noting that the Ibeno Beach will be repositioned to realize its full potentials.
Kidnapped A'Ibom children still in Kidnappers'den 25 days after
He also explained that he has repositioned his office to take advantage of available social media platforms to aid sell the Akwa Ibom Brand and the A.R.I.S.E Agenda of the present Government. 
The Special Assistant on Brand Management and Marketing, Sir Raphael Edem commended the proactive steps of the Governor, Pst Umo Eno to make the A.R.I.S.E Agenda a workable plan by partnering with Songhai Agricultural Technology, an Agricultural firm based in Cotonou-Benin Republic to train 31 Akwa Ibom persons so as to replicate its viable farm in the State. 
However, the session climaxed with the Chancellor, Mr. Ifreke Nseowo formally inviting the SSA on Brand Management and Marketing, Sir Raphael Edem to the upcoming COOPA Convention/Conference. The event which will hold on September 29/30, 2023 will culminate to an election as the tenure of the Ifreke Nseowo-led-Executive will be elapsing on September 30, 2023.  
COOPA Chancellor also appreciated the SSA for the support to the body over the past years.
Meanwhile, the media chat is a series of discussion with key players and policy makers in the society, in the buildup to Akwa Ibom State 36th Anniversary coming up on September 23, 2023.