The commitment to provide quality policies to better the educational needs of students by the State Government has been reiterated by Commissioner for Education, Mrs. Idongesit Etiebet.
Etiebet stated this on Tuesday 21st August while receiving students of Akwa Ibom origin studying medicine and surgery in tertiary institutions across the world under the aegis, National Association of Akwa Ibom State Medical Students (NAAKIMS) Worldwide who were in her office on a courtesy call.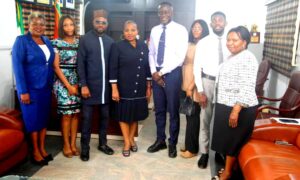 Mrs. Idongesit Etiebet who received a certificate of recognition as Patron of the student body presented to her by the President, Comrade Idara Ekpuk, also assured them of Governor Umo Eno's genuine zeal to better the lots of students in the State especially the intelligent but indigent set.
According to Mrs. Etiebet, the state governor, Pastor Umo Eno had recently announced a scholarship grant of one hundred million naira to physically challenged students from the State, as well as giving directive for the remodeling of some schools in the State.
The Commissioner said, the sustained free and compulsory education policy with annual payments of WAEC and NABTEB examinations fees and other educationally enhanced policies and programmes are all geared towards preparing school aged children in the State for a better future.
She appreciated members of NAAKIMS for their contribution towards achieving a healthy society through their association's advocacies and sensitisation programmes that meets the health needs of people in the State, assuring them of interest of the State Government to attain to their welfare.
Earlier, the President of the association while presenting the award to the Commissioner, said the award was in recognition of Mrs. Etiebet's outstanding contributions to the growth of the association.
Comrade Idara Ekpuk who also enumerated activities and programmes attained by their association said members of NAAKIMS has recently been engaged in various societal based medical awareness and sensitizations including marking of the World Cancer Day where they advised people on issues of cancer in some local government area in the State including Ukanafun; conducting Essay Competition and award of prizes to Akwa Ibom State students studying medicine and surgery as a means to encourage them in their academics.
Other areas of activities the association had shared their support according to Comrade Ekpuk included marking of the World Malaria Day, distributing free treated mosquito nets to people in Uyo and Uruan local government areas, as well as carrying out awareness campaign on menstral hygiene for female gender in the State during the event marking the World Menstral Hygiene Day.
While acknowledging the support of the State Government to their association, the NAAKIMS Worldwide President, also requested for government's continued magnanimous gesture in meeting their other welfares as well as payment of their academic grants.