In a proactive attempt to gain entrance into the ARISE agenda of His Excellency Pastor Umo Eno,the Ethical and Attitudinal Reorientation Commission, EARCOM has embarked on visit to select secondary schools in Uyo metropolis to advocate against vices.
The chairman of the commission, Dr. Dorothy Thompson, while setting the tone for the campaign, warned the schools and students that the governor will not tolerate any form of impediment to the ARISE agenda as it relates to the educational cardinal point of his developmental pursuit for the state.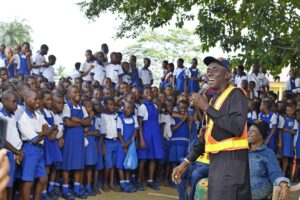 She described such behaviour as cultism, rape, drug abuse as anti ethical to the ARISE Agenda of the present Governor, Pastor Umo Eno, whom she revealed is out to transform the Education Sector of the state.
According to her, "We want to make sure we create the awareness so that students do not engage in vices. We want students to become socially responsible Akwa Ibom State citizens. We want to see how we can sanitise the schools and bring such activities like drugs, cultism, examination malpractice and rape to the bearest minimum so that students can focus on their purpose which is academics; not vices.
Dr. Dorothy Thompson therefore warned students to extricate themselves from anything that would becloud their focus and derail them from doing the right thing.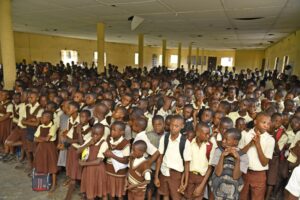 She concluded by marking allusion to Biblical injunction from Proverbs 22:29, "Seest thou a man diligent in his business…."and Proverbs 16:25, "There is a way that seems right unto a man, the end thereof are the ways of death."
In a broad theme, "Be a Socially Responsible Citizen of AKS" and specifically " Focus on your purpose: Academics not Vices," the guest speaker and former Dean of students, University of Uyo, Professor Aniekan Brown gave an exposition to students on why they should say no to vices like cultism, drugs, rape, violence, exam malpractices and vandalization of school and government properties.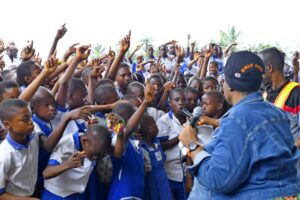 Aniekan Brown, a professor of Criminology, encouraged students to study hard and involve themselves on things that are positives and show less concern on things that are negative.
"I call you the future of Nigeria because God will keep you alive and you shall outlive us as responsible citizens of Nigeria.
"As students, you must make sure that you have a target without any distraction. Education is key to unlocking aspirations and hope of people and that is the most reason EARCOM has come to remind you of the need to remain focused on scholarship and not deviate to vices.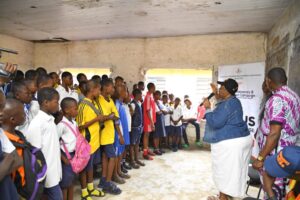 "For you to remain focused means you have to shy away from vices which include; examination misconduct, cultism and rape. As you come to school, make sure you attend classes and after school, you need to keep yourself focused by forming study groups and joining profitable clubs in schools. The more you have time for such, the less time you would have for vices.
"Examination malpractice and involvement in drugs are vices. I come this day to discourage from do those things. I want to discourage you from joining any group that meets without authorization, but I encourage you to join press clubs, school choir, EARCOM Club, among others.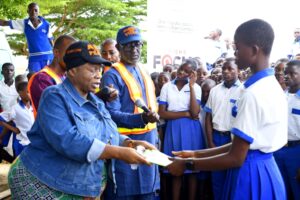 "As a minor, being emotionally attached to someone of your opposite sex is not correct. Focus on things that will make you succeed. Read your books and engage yourself. As you do these things, you will pass your WAEC and JAMB in flying colours. I have no doubt that someday in future, some of you will be professors like me."
Prof. Brown ended the interactive session with a time for questions from students, and a pledge to shun social vices.
To encourage the free and compulsory education in the state, exercise books, T-shirts and fez caps were presented to schools visited.