Women in Esit Eket and Ibeno local government areas of Akwa Ibom State have signed a declaration demanding an end to gas flaring by International Oil Companies in their communities.
The signing of the declaration on Tuesday October 10 in Uyo, climaxed a one-day town hall meeting spearheaded by Policy Alert, a Civil Society Organisation promoting economic and ecological justice in the Niger Delta.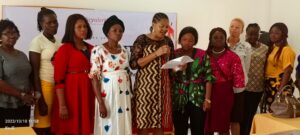 Part of the demands in the declaration is a review of Petroleum Industry Act 2021 to re-assert the environmental regulation roles of the National Oil Spill Detection and Regulatory Agency (NOSDRA) , the Federal Ministry of Environment and all other environmental regulators whose roles have been diminished by the Act and to ensure that all historic and current gas flare fines are invested in environmental remediation of the affected communities.
The declaration demands the state government to prioritize climate budgeting in its budget estimates to enable communities adapt to devastating effects of climate change.
The federal government was also asked to set clear milestones towards achieving the 2030 flare out target it has committed to as proof of its fidelity to this date.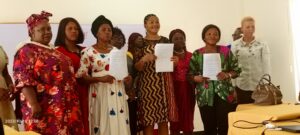 Earlier in his speech, the Executive Director, Policy Alert Mr. Tijah Bolton-Akpan, noted that the issue of gas flaring is not something that should still be discussed in 2023.
He revealed that flaring gas amounts to waste of resources, damage to the environment, adding that such act is illegal in Nigeria and it should not be tolerated.
On why women decided to sign the declaration, Bolton-Akpan said, "impact of extraction is not homogeneous as women tend to suffer most. The aim of the declaration is to push women to become a force in the advocacy and make them back their advocacy with solid data that are irrefutable." 
Community Secondary School Aka Offot floors Topfaith, others in quiz competition
He averred that Policy Alert has been pushing the data on gas flaring to doorsteps of community stakeholders, adding that the declaration will warrant wider engagement.
Rhoda Peters, a women leader from Ibeno local government area, said apart from serious environmental damage gas flare has caused, fishing is gradually becoming a thing of the past in the area.
She recounted health challenges incurred by women and appealed for immediate assistance.
Lady Apostle Cecilia Ikot, from Esit Eket local government area, expressed fear that women may be exterminated in communities where gas is flared if federal government waits till 2030 to end gas flare.
She frowned at attitude of some stakeholders in her area whom she said are after money with no pity for those suffering the pangs of gas flaring.
Director, Mineral Resources, Ministry of Environment and Mineral Resources, Ms Emem Ibokette harped on the need for decent environment and warned the women against collecting money from IOCs.
"We must come together to speak in one voice and reject what is not good. We must arise to say no to gas flaring so that we can have a safe environment." She said.
However, data presented by Policy Alert indicate that amount of onshore gas flared within Ibeno from March 2012 to July 2023 is 45.8 million Mscf while that of Esit Eket within the same year under review is 1.9 million Mscf.